Click Here For Order Form
MC110.100 Wikco Brand Motorcycle Tire Changer
Price Is $624.95 Plus Shipping.
For a Limited Time Save $50.00 When Ordering the MC110.100 & The BMC112 Wheel Balancer At The Same Time.
..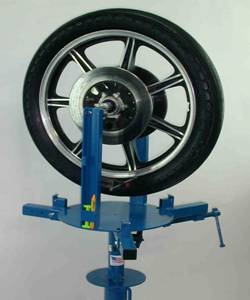 Motorcycle Wheel Balance
Click Picture to View The BMC112 Balancer Page









Shown Optional With BMC112 Wheel Balancer




Custom Demount / Mount Bar

Part Number 100-14C
| | | | | |
| --- | --- | --- | --- | --- |
| Clamp Hooks / Protective Plastic End | | | | |
The Model MC110.100 is our original motorcycle tire changer. The MC110.100 motorcycle tire changer lets you change tires on mini-bike and motorcycle wheels with rim diameters from 8 inches up through 21 inches. The motorcycle tire changer is complete with bead breaker and mount/demount bars. The MC110.100 comes with our custom wheel bar for motorcycle and other wheels with aluminum, chrome, or painted rims. The custom wheel bar tire tool prevents scratching and gouging of these wheels. The inserts on the bars will last for many uses, but can be easily replaced when needed. The MC110.100 also comes with the standard steel bar, that can be used when changing standard steel rims on ATV's, garden tractors, and cars and pickups; all wheels you can do on the lower stand of the MC 110.100. The Wikco MC 110.100 motorcycle tire changer is more versatile than any other motorcycle tire changer made. The MC 110.100 is reasonably priced, made in the USA, and has a 2 year warranty.
Features/Specifications
Model MC110.100 lets you change tires on mini-bike and motorcycle wheels with rim diameters of 8" up through 21"

Comes with 2 different center posts: 9/16 inch and 7/16 inch diameter to fit most wheels with a center hole through the rim.

Also change tires on ATV wheels or trailer wheels with a large open center

Tire changer comes complete with bead breaker and mount/demount bars

Custom Mount/Demount Bar has durable nylon ends to protect wheels from scratching and gouging (ends are very durable)

Standard steel mount/demount bar which is also included, can be used on standard steel wheels, or on any wheel with rough or damaged edges so you don't wear the custom wheel bar

Remove motorcycle rim clamp holder, and use the plate on the main stand of tire changer to also change tires on other wheels including: ATV, garden tractor, golf cart, car, trailer, and pickup wheels

All steel construction.

Tool holder attachment (included) holds mount/demount bar and other parts when not in use, and also has rubber lubricant bottle and applicator swab

Height: From floor to where motorcycle rim sits - 37 inches

Shipped in two cartons, 52 lbs. and 30 lbs.
The MC110.100 is now equipped with our new rim clamp hooks with protective plastic ends, as shown above. The motorcycle vise clamps are tall enough that brake disk(s), belt drive pulley, or sprocket can be left bolted to the rim when changing the tire.
Drawing / Parts List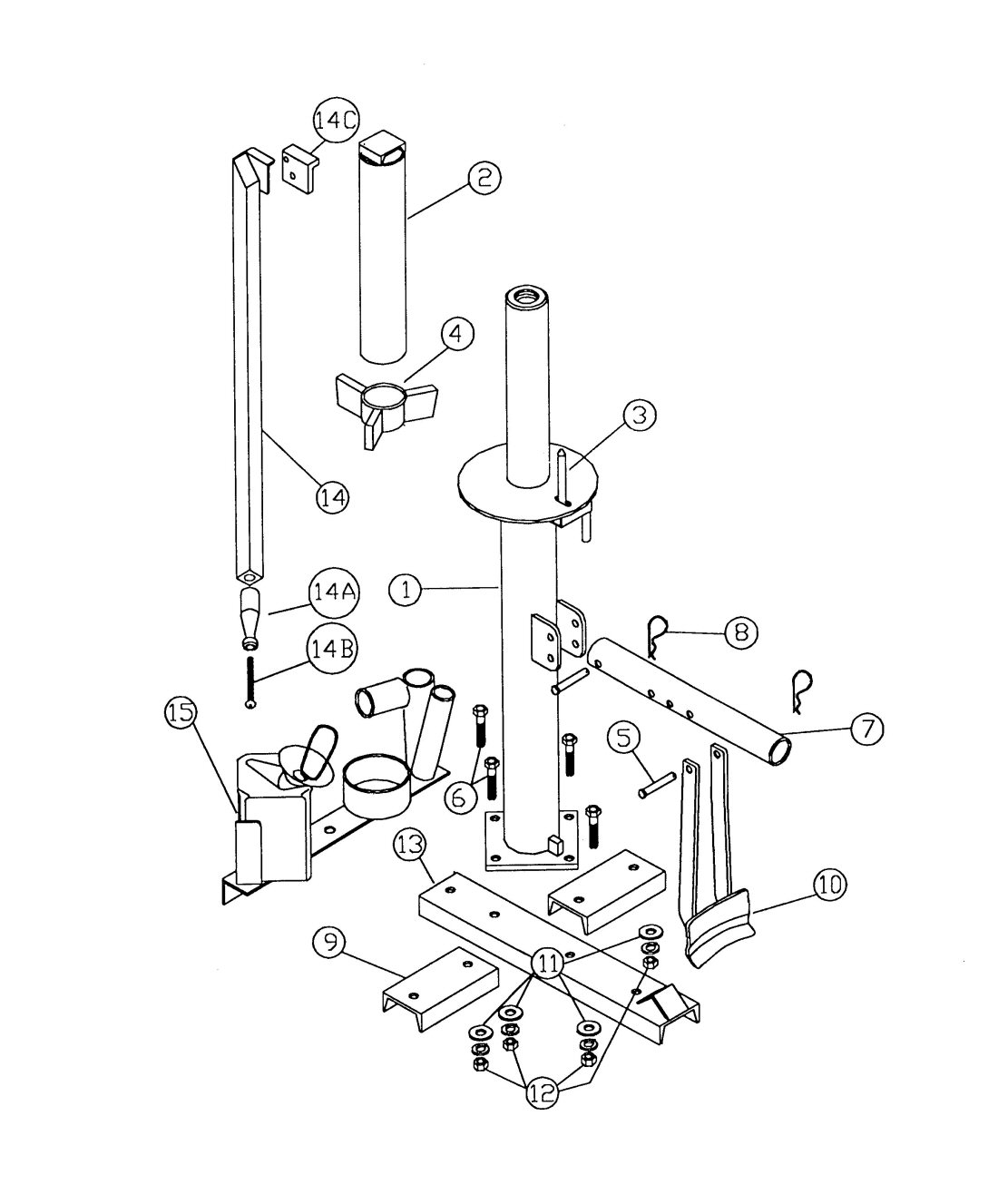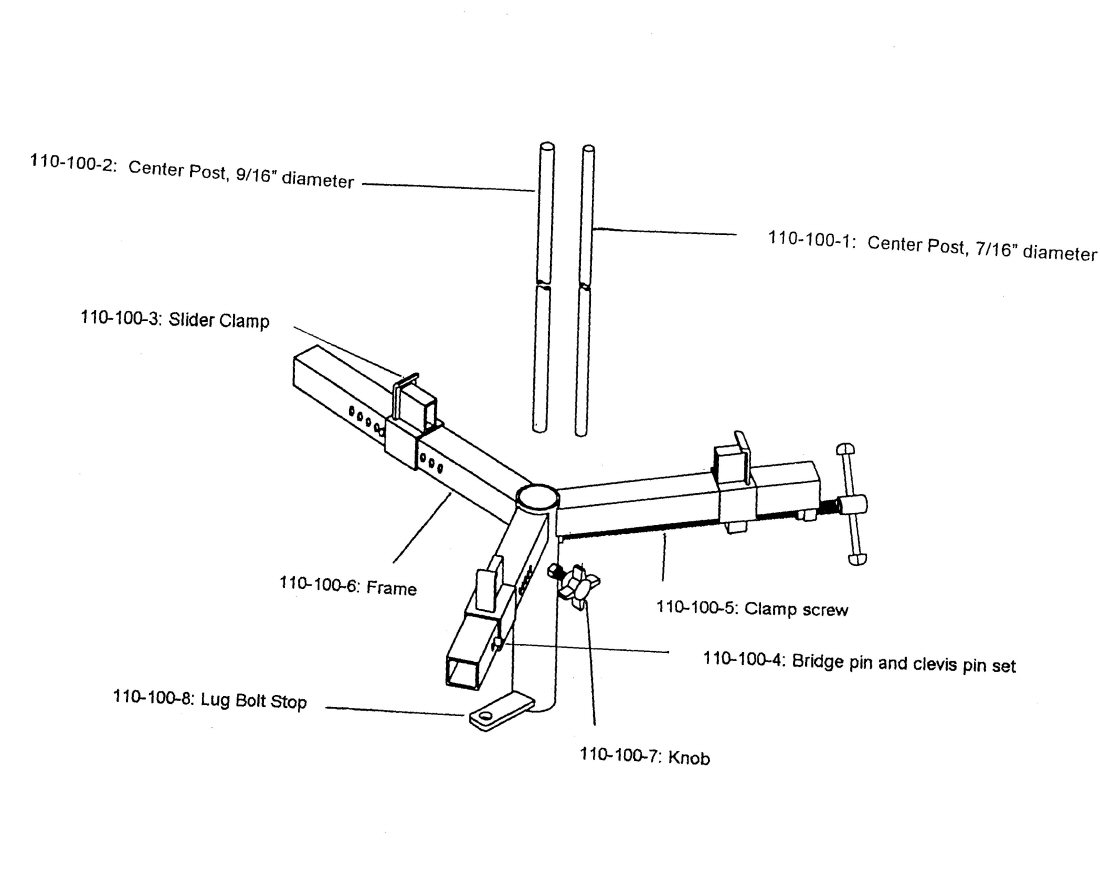 MC110.100 Parts:
Part Number
Description

Quantity
Part 100-1

Tire Changer Stand
1
Part 100-2
Tire Changer Cap
1
Part 100-3
Wheel Lug Pin
1
Part 100-4
Spider
1
Part 100-5
Clevis Pin
2
Part 100-6
3/8" bolts
4
Part 100-7
Bead Breaker Handle
1
Part 100-8
Bridge Pin
2
Part 100-9
Short Base Channel
2
Part 100-10
Bead Breaker Shoe
Part 100-11
3/8" Flat Washer & Lock Washer
4 Sets
Part 100-12
3/8" Nut
4
Part 100-13
Long Base Channel
1
Part 100-14C
Large Custom MountlDemount Bar
1
Part 100-14A
Replaceable Demount End
1

($9.95 ea.)
Part 100-14B
Bolt (Demount End)
1

($3.50 ea.)
Part 100-14C1
Replaceable Insert (Mount End)

1

($9.95 ea.)
Part 100-15
Tool Holder Assembly

1
Part 100-17
Lubricant Bottle
1
Part 100-18
Applicator Swab
1
Parts List:

MC110 Wheel Vise
Part 110-100-1
Center Post, 9/16" diameter
1
Part 110-100-2
Center Post, 7/16" diameter
1
Part 110-100-3
Slider Clamp
2
Part 110-100-4
Bridge pin and clevis pin set
2
Part 110-100-5
Clamp Screw
1
Part 110-100-6
Frame
1
Part 110-100-7
Knob
1
Part 110-100-8
Lug Bolt Stop
1
Accessories Available For the MC110.100 Motorcycle Tire Changer.


Model # 110.HA 2 Inch Receiver Hitch Attachment
Price Is $79.95 Plus Shipping
The Model # 110.HA Hitch Attachment allows you to mount any of the Wikco brand tire changers to your car or truck 2 inch receiver hitch. This includes the model # MC110.100 motorcycle tire changer, model # MC110.200 motorcycle tire changer, and the model # STC100.103 manual tire changer with the small tire accessory. One end of the attachment bolts to the tire changer using the 2 U-bolts and the 2 V-shaped clamps (included). The other end inserts into the 2 inch receiver hitch on your vehicle. The hitch attachment gives you approximately 20 inches of length from the end of the receiver hitch, and is adjustable several inches up or down.
Model MC110-SSS
:
C shaped arm and center post assembly for BMW, Honda, and other wheels without a center hole through the rim (shaft drive machines). Attaches in seconds without any tools.
Price is $79.95 Plus Shipping.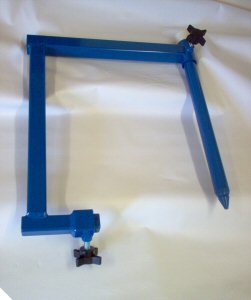 MC110-SSS Swing Arm Attachment
Part # 110.CS Heavy Duty Wheel Clamp

With Replacable Protective Plactic Pads (Set of 3).
This set will fit old style Wikco Industries MC110.100 Motorcycle Tire Changers.
Price is $139.95 Plus Shipping.
Set of 3 Replacement Protective Pastic Pads $59.95 Plus Shipping.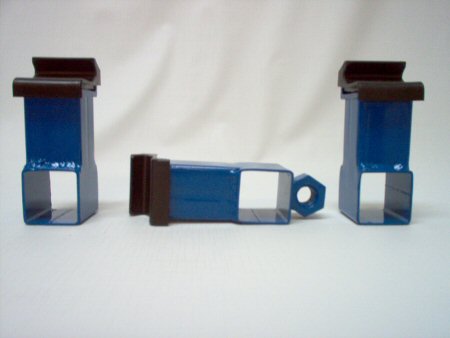 STC103 Small Tire Accessory.
Wikco Brand Tire Changer Accessory.
Price is $149.95 Plus Shipping.

Changes tires on wheels with 3/4" center bearings such as ATV's, small farm implements, golf carts, go-carts, and most outdoor power equipment tires.

Used by professional shops of all sizes, lawn and garden centers, power equipment shops, golf courses, city park departments, and do it yourself garages and shops.

Comes complete with base plate, hold down cap, knob, and small demount / mount tire bar.

Made in the

USA and warranted for 2 years.
Model #109 ATV Bead Breaker
The 109ATV Bead Breaker Shoe also has a lever arm that attaches so you can keep the bead breaker shoe tightly against the rim. Ideal for breaking the bead on ATV wheels, also the Bead Breaker Shoe works great on motorcycle wheels, now included is a protective plastic insert that will protect the wheels from scratching, and gouging. This item and all Wikco Industries tire changing tools and accessories are designed to fit only Wikco brand products, and are not recommended for use with other brand of tire changers.
Price is $58.95 Plus Shipping.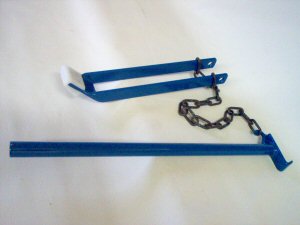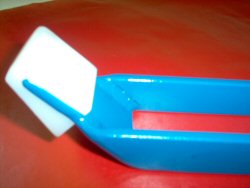 To Order Products or Parts, Call (800) 872 - 8864.