Click Here For Order Form
Wikco Brand Pull Behind Core Plug Aerators


| | | |
| --- | --- | --- |
| | | |
| | |
| --- | --- |
| | |
| | |
| --- | --- |
| | |
The Wikco Models 300 and 600 Core Plug Aerators
can be pulled with your ATV, garden tractor, turf truck, tractor, or commercial mower. These core plugging aerators are available in 30 inches wide and 60 inches wide models, and aerate a maximum of 4 inches. These units are perfect for use by schools and recreation departments at cities, as well as by golf courses, and lawn maintenance companies. All steel construction for commercial and professional use.
Features/Specifications
Core plugging aerators with maximum aeration depth of 4 inches

Available in aeration widths of 30 inches or 60 inches wide

All steel construction, warranted for 1 year (excluding tines)

Pneumatic transport wheels mounted on 4 inch diameter rim

Transport wheels swing up out of way for aerating or down for transporting; wheels lock into position with one pin

Pin type hitch; pull aerator with tractor, turf truck, or ATV

Each unit has replaceable tine wheels (4 on model 300, 8 on model 600), each section has 10 tines

Aeration depth is increased or decreased by adding or removing weight from the all steel weight tray on the top of the aerator. Fill the box with crushed rock, gravel, sand, cement blocks, or lay cement bags or sand bags in the tray. Weight tray is removable, so you can dump the tray when finished, or remove the tray and lay sand bags or other weights directly on the aerator frame.
Model 300: Wikco Core Plug Aerator, 30 inch aeration width, wt. approx. 150 lbs., ships by truck.
Price is $999.95 Plus Shipping.
Model 600: Wikco Core Plug Aerator, 60 inch aeration width, wt. approx.. 275 lbs., ships by truck
Price is $1199.95 Plus Shipping.
Please allow 14 working days for receipt of all items, especially truck shipments. Many items can be delivered sooner, but no cancellations or delivery refusals will be accepted on orders delivered within the 14 working days from your placing of the order.
All "shipping charges" refer to standard shipping charges where delivery is to a commercial / business location where if delivery is by common carrier (truck) they will deliver the freight to the delivery address, and you must have a way to unload it. If you don't have a way to unload it, and you don't have personnel to unload the freight by hand, and services such as a lift gate are required, a minimum extra charge of $75.00 will apply, but this charge varies for each terminal location, so this would be the minimum and could be as high as $180.00. Standard delivery for truck shipments means to your dock or door. If the item needs to be placed inside your warehouse by the trucking company, there will also be an inside delivery charge. If the shipment is delivered to a non-commercial, or residential address you may choose to pick up at the Freight Company's Terminal, in most cases this saves on additional shipping charges. Any special services should be requested at the time of the order. If you have any questions about delivery, please contact us at (800) 872 - 8864.
Drawing / Parts List: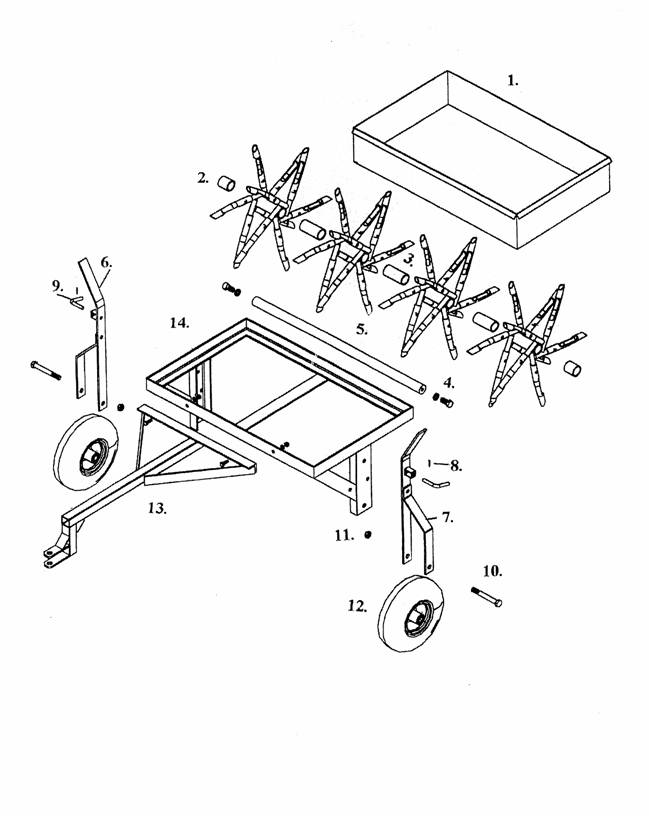 Parts list - Model 300 Wikco Tow Behind Aerator

Ref. Number Part Number Description

1. 300-1 Weight Pan

2. 300-2 Axle Shaft Spacer - Outer Spacer (2 required)

3. 300-3 Axle Shaft Spacer - Inner Spacer (3 required)

4. 300-4 Axle Shaft Bolts w/washers

(2 required plus center threaded stud - not shown)

5. 300-5 Axle Shaft

6. 300-6 Transport Wheel Yoke (Left)

7. 300-7 Transport Wheel Yoke (Right)

8. 300- 8 Roll Pin (for transport wheel spring pin) - (2 required)

9. 300-9 Locking Pin for Transport Wheels - (2 required)

10. 300-10 Wheel Bolt (2 required)

11. 300-11 Wheel Nut (2 required)

12. 300-12 Pneumatic Wheel Assembly (2 Required)

13. 300-13 Hitch

14. 300-14 Aerator Frame - 30 Wide Section

To Order Products Or Parts Call (800) 872 - 8864.